GST Registration and Refund
GST stands for Goods & Services Tax. It was first introduced on 1st April 1994 at 3%. In order to maintain its international competitiveness, the Singapore government began to collect GST rather than taxing corporate and top marginal personal income at a high rate of 40%*. It was a move from collecting direct to indirect taxes. Currently, Singapore's GST rate stands at 7% and poised to increase by 9% sometime between 2021 and 2025.
(*Source: Report of the Economic Committee, The Singapore Economy: New Direction, Singapore Ministry of Trade and Industry, 1986, p. 89)


What does this mean for a business owner?
As a business owner, your business might be required to register for and collect GST.

It would mean that you need to include GST in the prices for the products and services that you are selling or providing, and then pay the collected GST back to IRAS. You can claim back GST for your business purchases.

GST Registration
There are 2 types of GST registration:
1. Compulsory registration
2. Voluntary registration
1. Compulsory registration
As a business, it is required by law to register for GST when:
Your taxable turnover for the past 12 months ending Mar, Jun, Sep or Dec (referred to as "quarter") is more than $1 million; or
You are making or intend to make taxable supplies and you can reasonably expect your taxable turnover in the next 12 months to be more than $1 million (e.g. signing of a sales contract or business agreement)
2. Voluntary registration
For businesses that have an annual turnover that is less than $1million, it is not required by law to register for GST but can voluntarily do so. Once registered, businesses must stay registered for a minimum of 2 years.
To qualify for voluntary registration, you can check the requirement here
Company directors are also required to complete and pass 2 Elearning courses – "Registering for GST" and "Overview of GST", before registering for GST.
How to register for GST?
Before registering online for GST in myTax Portal or submitting forms offline, please get ready the following information:
1. Company's name and registration number;
2. Business Activities of the company;
3. Financial Year End;
4. Issued and Paid-Up capital;
5. Size of the company;
6. How the company intends to prepare its GST returns
Once all the information are ready, use your Singpass to access the GST registration digital service on mytax.iras.gov.sg. You will need to upload a soft copy of this supporting document at the end of the application process. IRAS had a step-by-step video tutorial on how to register for GST, you can view it here.
GST Calculation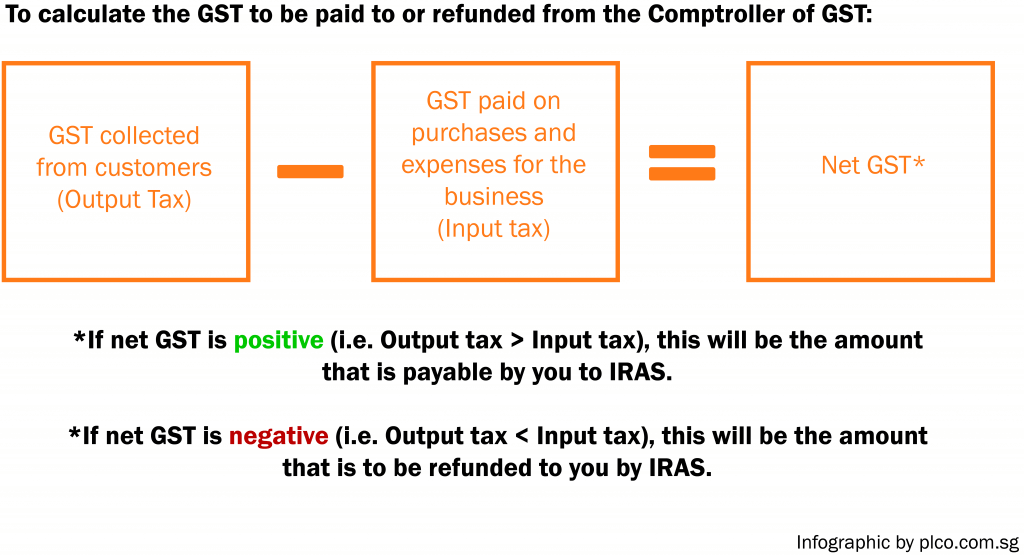 GST Refund/Claiming back GST (Input Tax)
For GST-registered businesses that make purchases on taxable supplies, you are liable to pay GST (Input Tax) too. However, you are able to claim back GST or get a GST refund as a GST-registered business. You can claim input tax incurred when the following conditions are met:
The goods or services are supplied to you or imported by you (imports are supported by import permits that verify that you the the importer of the goods)
You purchased the goods or services for your business
You keep the tax invoice of your purchases
The input tax claims are not disallowed by regulations 26 & 27
The goods or services are taxable supplies or out-of-scope supplies that would be taxable if it is made in Singapore
You have ensure that it is not part of a Missing Trader Fraud arrangement



What would happen if your business is late in registering GST?
Your effective GST registration date will be backdated to the time when you are liable to register for GST. You are required to pay GST from your effective registration date even when you have not started collecting GST from your customers.
For late registration or failure to register GST, you are liable to be fined for up to $10,000 and a penalty of 10% of the tax due. IRAS may waive the penalties if businesses come forward promptly.
---
Need assistance with GST Registration and Refund?
Settle it with the help of our capable team at PLCO. Connect with us at enquiry@plco.com.sg.